The Water's Edge Luxury Boutique Guest House is Stratford-upon-Avon's best kept secret.
Newly opened and immaculately presented throughout , The waters edge is exceptionally well appointed and offers our paying guests something a little different to those visiting Stratford-upon-Avon and the local surroundings.
Winners of the recently filmed in 'Four in a Bed ' the Channel 4 TV programme , which was televised Q1 2017.

Also rated 9.1 'Superb' by visitors who've stayed with us and booked through Booking.com.
Come and stay with us in the same rooms to give us your valued feedback !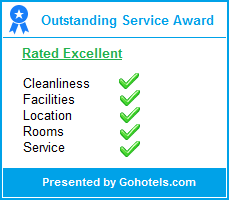 Set in one and a half acres of grounds with riverside frontage, this boutique guest house sits in a truly scenic environment. Whether it's relaxing by the water's edge or taking in the tranquility of the surroundings and the grounds, your stay at the Waters Edge Guest House in Stratford-upon-Avon will be truly memorable ..
OUR ROOMS
The rooms are all en-suite and beautifully appointed with colour matched themes including;
Twilight Black
Savannah Green
Purple Haze
Ocean Breeze Blue
Mocca Heaven
Amber Sunrise
You will want to return to sample the delights of the subtle interior designed rooms again and again. Our subtle attention to detail with deep carpets underfoot, luxurious colour matched towels, bespoke shampoos, conditioners and fragrances we will suprise and delight you .
ROMANTIC AND RELAXING GETAWAY
Whether it's a romantic getaway or just wanting to treat yourself to that extra special weekend, the Waters Edge Guest House has everything to offer at affordable prices.
The owners pride themselves on attention to detail, understanding how to make your visit special, Guest Service is paramount in their minds. Hand selected red and white/rose wines available in your rooms, salmon or roast ham picnic to eat by the river (*available on request), locally selected and beautifully presented freshly cooked breakfasts, superb breakfast shabby chique dining facilities  or just peace of mind parking then it's offered at the Water's Edge Guest House.